Description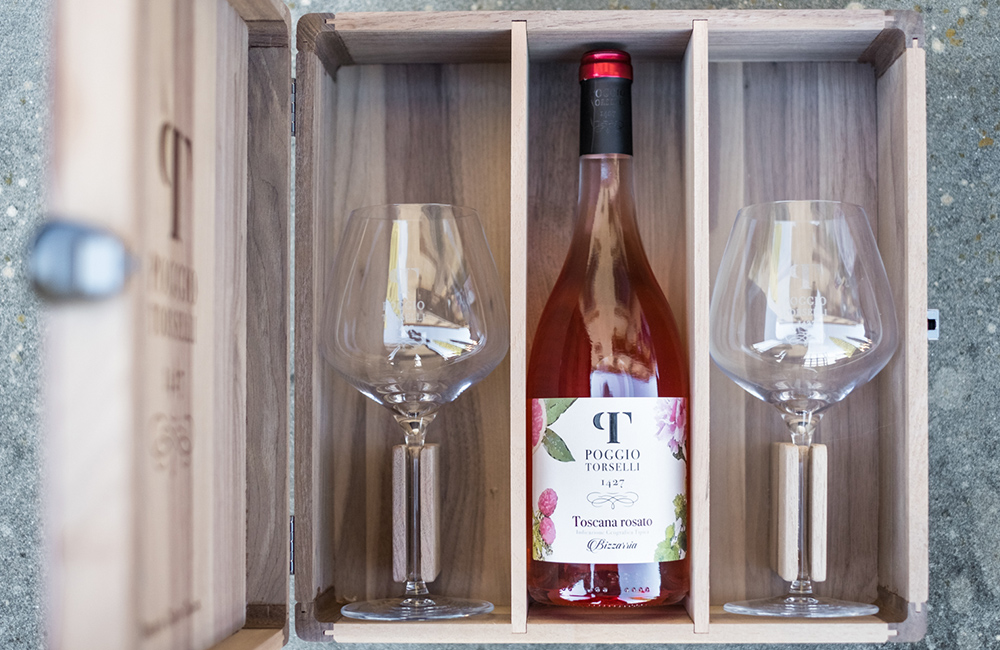 Hand made in premium walnut wood our wooden boxes are perfect for gifting and storing our wines.
The two beautiful fine crystal glasses with the Poggio Torselli logo are ideal to enjoy our Bizzarria Rosato at its best.
Appelation
IGT Toscana Rosato
Grape variety
Pugnitello 100%
Soil and vineyards
Grapes grow in a small vineyard of some half hectare at 200 mt a.s.l. on chalky and clayey soil rich in marine substrates of flaky marl. Planted in 2006, in rows facing East/South-East along the maximum gradient of the slope, vines are Guyot trained to guarantee maximum respect to their wellbeing and physiological balance.
Autumn green manure with mixed crops helps in yield management and to improve soil's structure and hydrological stability.
Average annual production: 30 hl/ha – 3000 bottles
Winemaking
Harvest usually starts in mid-September; after a careful selection, grapes are hand-picked and transferred into small crates.
Once arrived at the winery, they are softly pressed with stalks and only free run juice is used for the production of the wine.
Fermentation occurs spontaneously, triggered just by indigenous yeast, in temperature controlled steel tanks.
Wine rests 10 months "sur lies" with frequent soft bâtonnages.
Before bottling wine undergoes a gentle filtration. It is then bottled with natural cork.
Tasting notes
Bizzarria Rosato shows a warm and vibrant pink colour.
On the nose displays fine floral notes of jasmine, rose and violets, complemented by pleasant citrus and dried fruits and subtle hints of warm spices and liquorice.
The palate shows great freshness and minerality in elegant harmony with the silkiness from "sur lies" aging.
Depth and complexity with a long length and warm oxidative notes.
Food pairing
Bizzarria Rosato pairs beautifully with any kind of seafood.
Easily complements soups, salads, poultry and lamb.
It is a great match with cold cuts and soft cheese.
Notes
Since 2017 Poggio Torselli adopted organic farming methods and grows its grapes accordingly with biodynamic viticulture practises.
Bizzarria (Citrus Aurantium) is a rare citrus fruit (a graft between Sour Orange, Lemon and Citron) that grows in the stunning Italian Renaissance Garden of Poggio Torselli.